Now, I'm back in the US. I miss it there. The people the food and what not. I'm looking for a job now, and I had to spend alot of money getting the new apartment, furniture, other expenditures and loans to family.
This will be the end of things for now.
Insa-dong Souvenir shops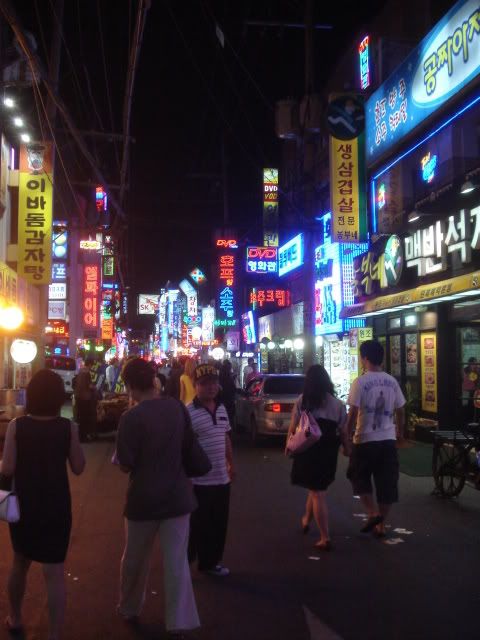 Yeungdeungpo-gu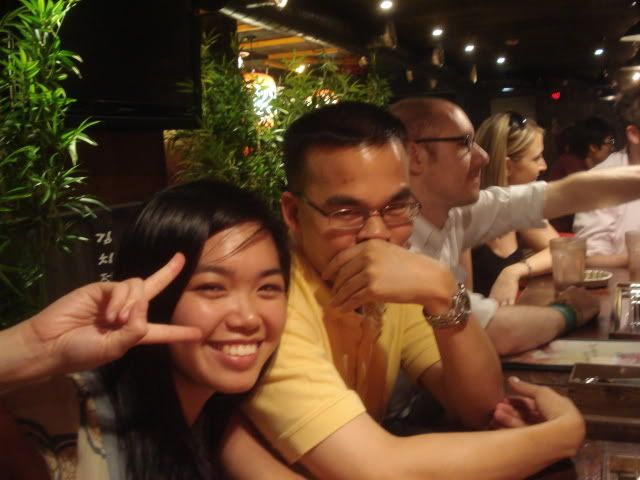 Drinking away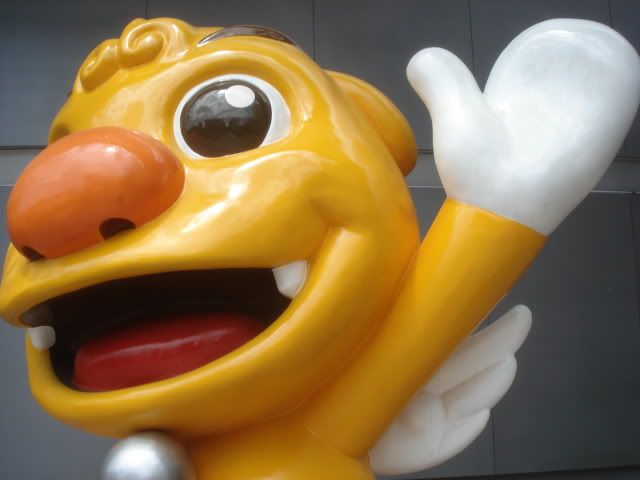 Haechi says "Bye!"
I had ended my stay in Korea August 1. I had gone to the pension office and requested my money. I transferred my money to my home account. I had to get rid of most of my belongings instead of selling them. After selling my bed and couch at the low cost of 70,000 W, I slept on the floor. I moved out of my apartment and got lucky by leaving some of the furniture to the new tenant, instead of having to pay for the removal. I had my going away party in the evening out in Yeungdeungpo-gu. I had my flight in the morning around 9 am. I had to leave about 7 by KAL Limousine bus. I had 3 check in pieces, but was lucky that I had been approved for 3 pieces. I wasn't charged an overage, which was great for my wallet. The flight was typical. Crying children and the long flight were discouraging. Our flight had been hampered because, a storm at D-FW, sent us to Houston. We waited there for about 2 hours then went back to Dallas to only wait for a gate for another 45 minutes.
Mood:

sad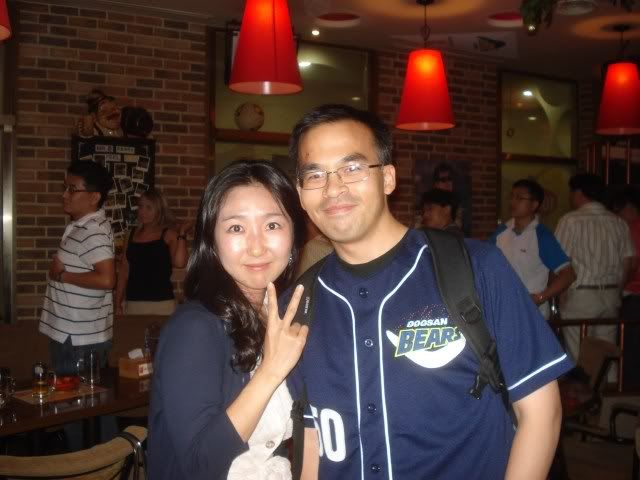 Alice
Hyun Jung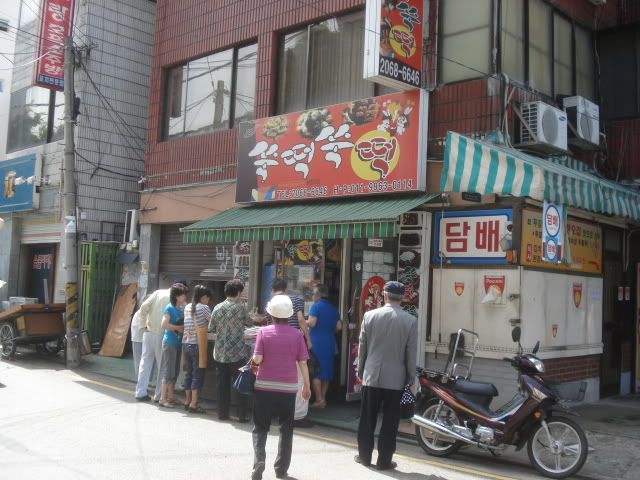 Tteok Restaurant
It's my last week in Korea. I'm busy trying to sell everything right now. I also need to wrap up paying bills and so forth. I need to go to the Pension office and do the paperwork to get my money and then visit the bank to transfer money as well. I'm hoping that the exchange rate works favorably for me soon. I finished up all the tests on Saturday, and I saw the movie Haeundae. So far, I need to wrap up seeing people and maybe buy some more souveniers. I began packing things, and it seems like I can do it with what I got. I know I'll leave some things behind, maybe some shoes, pillow, and the like. Some pics with former students.
Mood:

sad
Some traditional crafts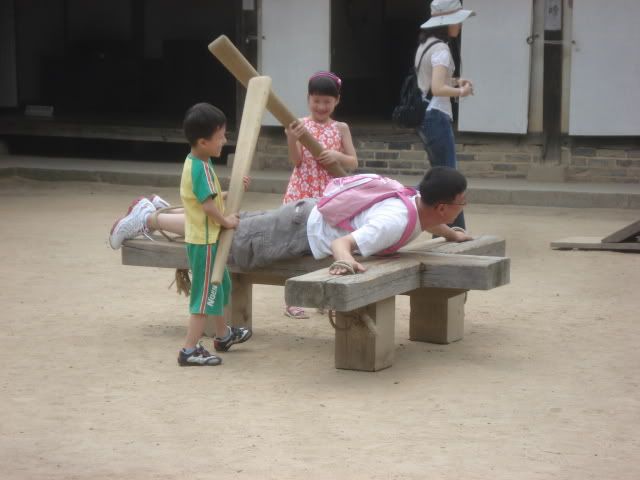 Punishment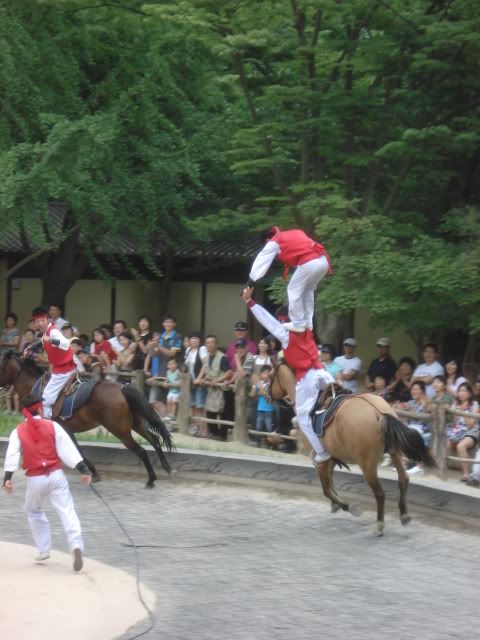 Horse activities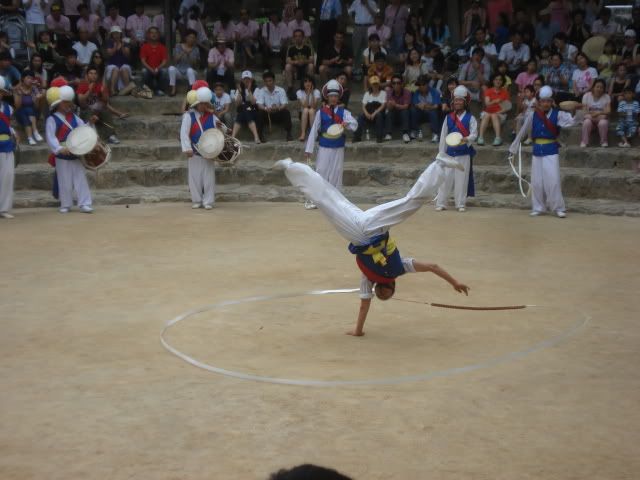 Dancing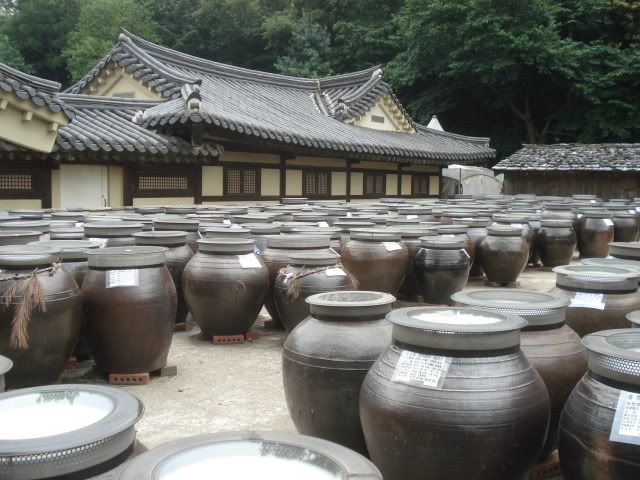 Kimchi pots
The first week of July I met my replacement. He's a Korean American from NYC. We're the same age, too. We went to the Seoul Auto Salon.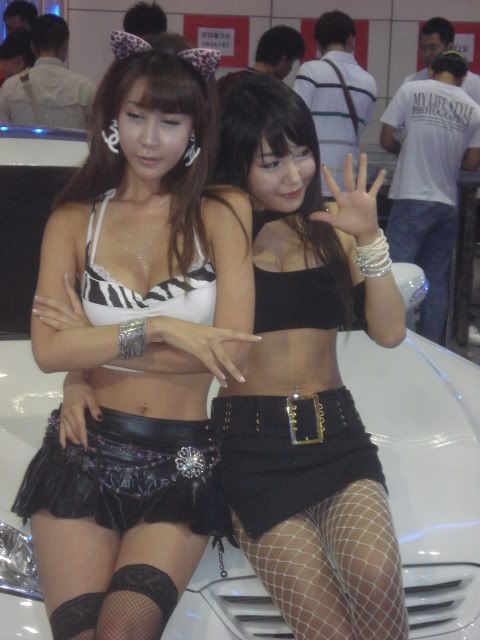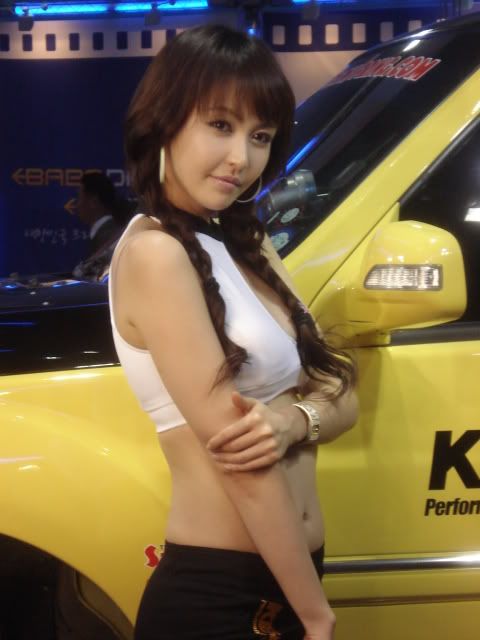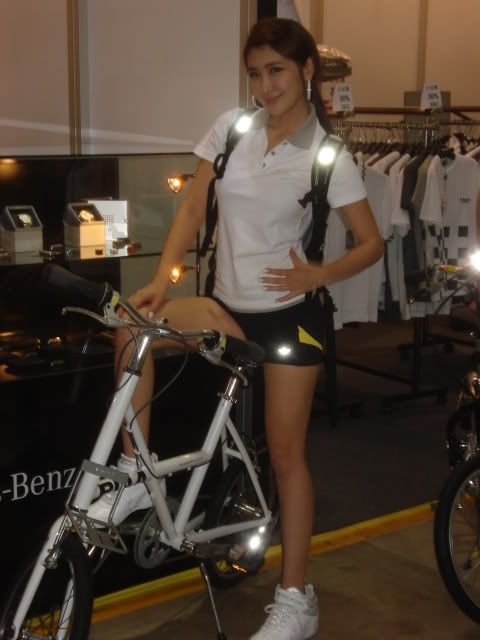 Yeah, a Mercedes Benz Bike....
I then went to see the Incheon International Business District. To my surprise, this is what it looks like...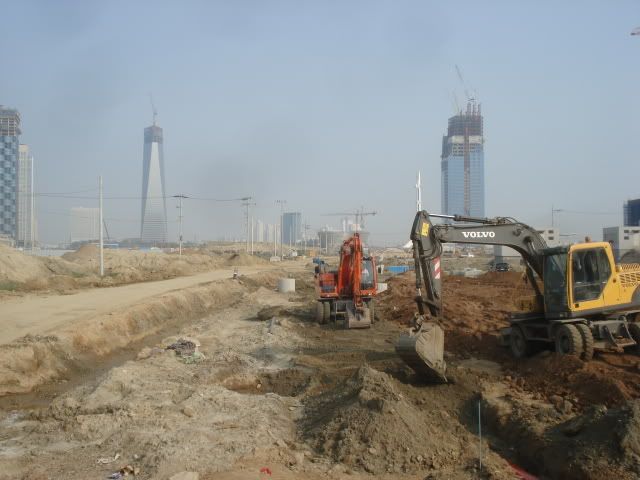 Last weekend, I took our Korean staff for lunch. It was pretty good. We went to Todai Seafood Buffet.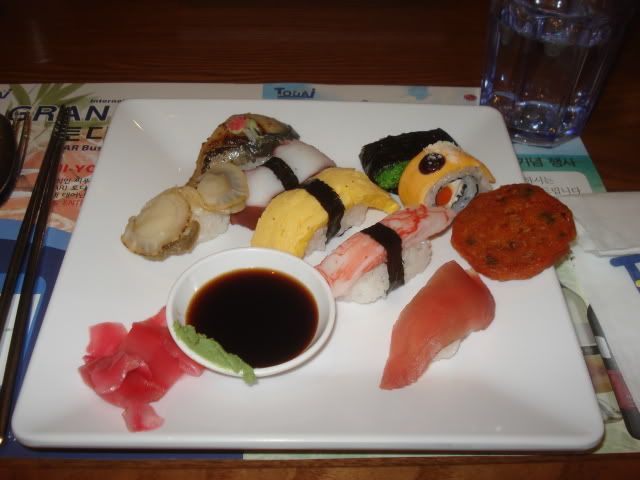 Mmmm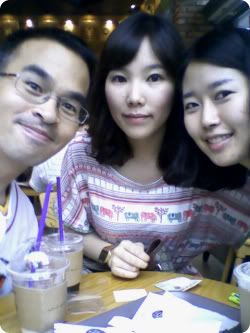 Here we are.
Not much time left for me. I return to Texas, Aug. 1.
Lately I've been slacking off on my duties of posting regularly. I will cover some of the things that I've done recently. On June 28, I decided to go to the Korean Folk Village finally. It was pretty interesting. I took the bus from Kangnam to it. I spent most of the afternoon there. I didn't buy anything, but I suppose I will return and get some gifts or so forth there.
Mood:

calm
Osaka Castle
I also went to see some of the Umeda area, too. After seeing some parts of the city and picking up my necessary Kansai Walker. I turned in for the evening to enjoy my first night in.
Kyoto-
Monday. Unbeknownst to me, the window in my room was more of a sliding panel. It wasn't bad, but it let me sleep soundly. I over slept and woke up about after 7 am. I decided with my schedule now changed I should go to Kyoto. I got cleaned up and had breakfast. I ventured out to Shin-Osaka station via the JR Loop. I took the Kyoto Express Train. Those 2 factors tacked on additional time I wasn't looking for. I got in about 11 or so. I went to the Kyoto visitors center and grabbed some brochures. I then went out to Nijo Castle. A must see according to Berlitz Level 5 Chapter 2. I then went out on a side journey around Saga Arashiyama. I then went out to the Toei Edo Studio. I saw some of the shows/performances they did. After that I went back toward Kyoto Station. I had noticed that most all of the historical sites were under renovation of some sort. My allergies began to go haywire and I had a very bad runny nose and itchy eyes. I decided to head back home.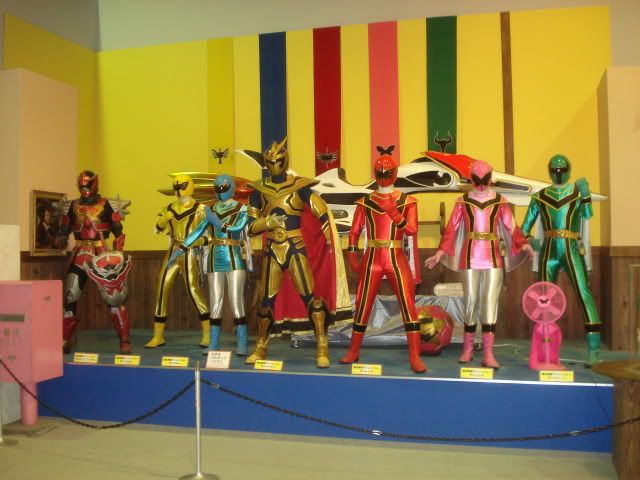 Toei Edo Studio
Nijo Castle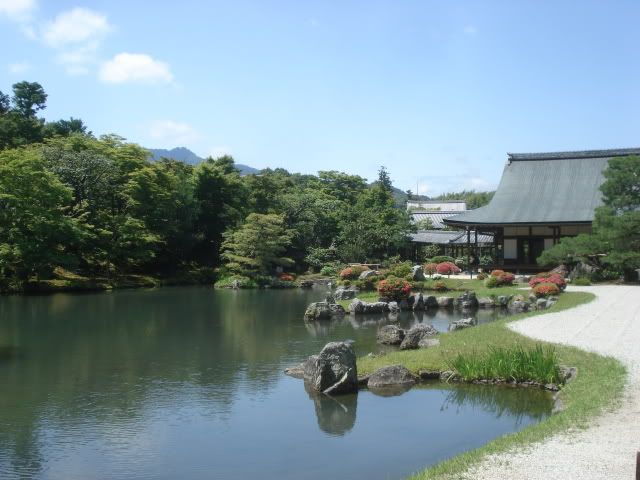 Saga Arashiyama area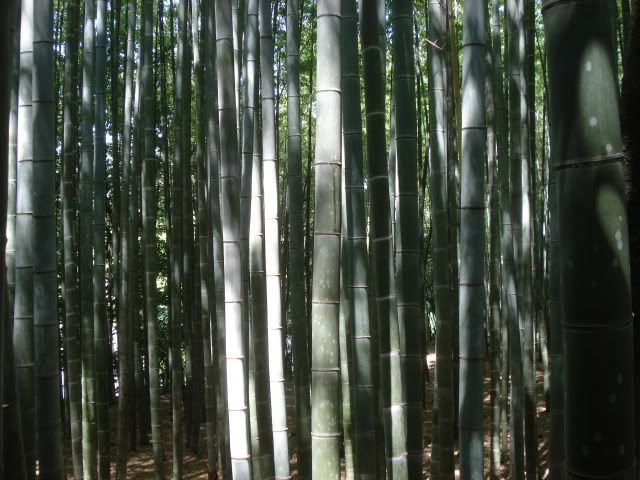 Bamboo Garden
Tuesday. I had an awful evening fighting whatever allergies I had. I decided to stick to my plan of waking up by 6:30, Breakfast at 7, Leaving to Shin-Osaka by 7:30, and leaving Osaka by 8:15. I went to Hiroshima by shinkasen. The plan was to go to Miyajima first, then Hiroshima. I arrived at Hiroshima Station by 10:30. I took the JR line to the Miyashima Ferry. I got there by 11:15 or so. I spent about 2 hours seeing the island. I then went back to Hiroshima Station. I got the Hiroshima Day Pass and then took the street car to the Hiroshima Peace Park. I was able to see all the park, then I went to Hiroshima Castle and the Shukkeien Garden. I then went to see the Mazda stadium. It was closed at the time, so I wasn't able to see inside. I then went and played some games for a few minutes. I returned home about 9 PM.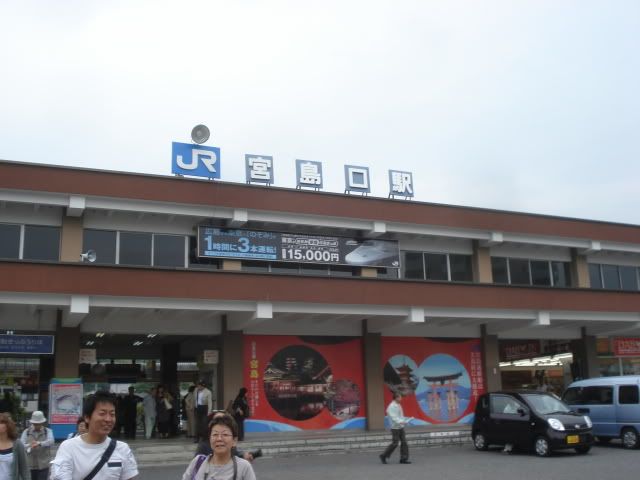 Miyajima Station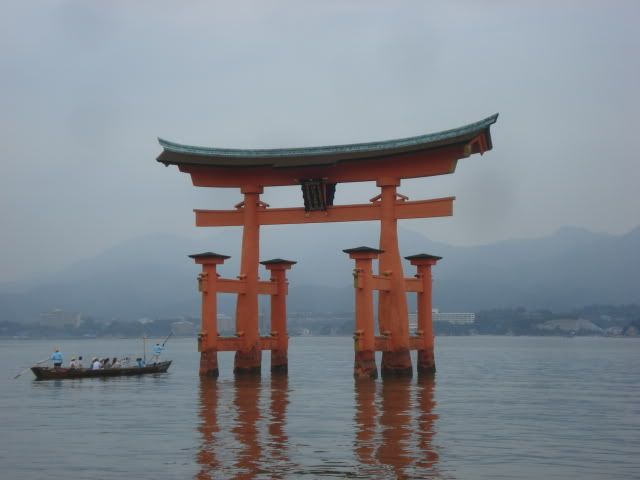 Miyajima's Water Gate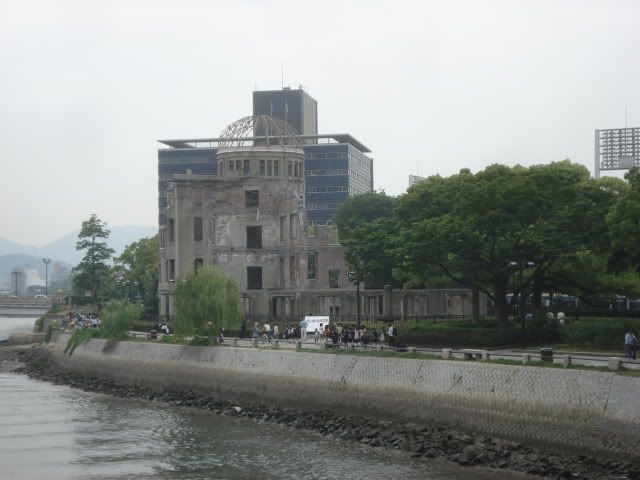 A-Bomb Dome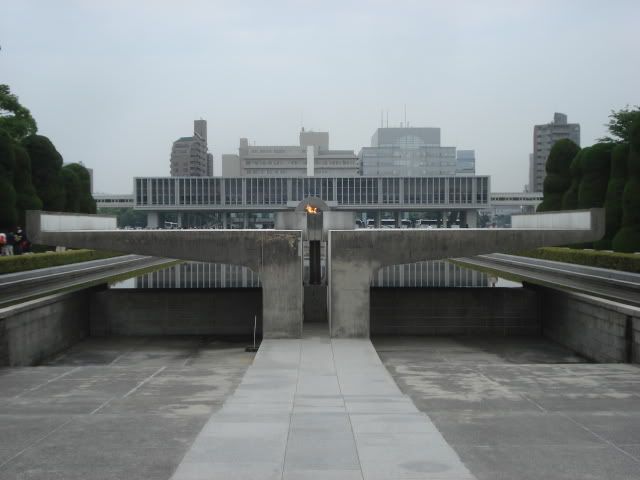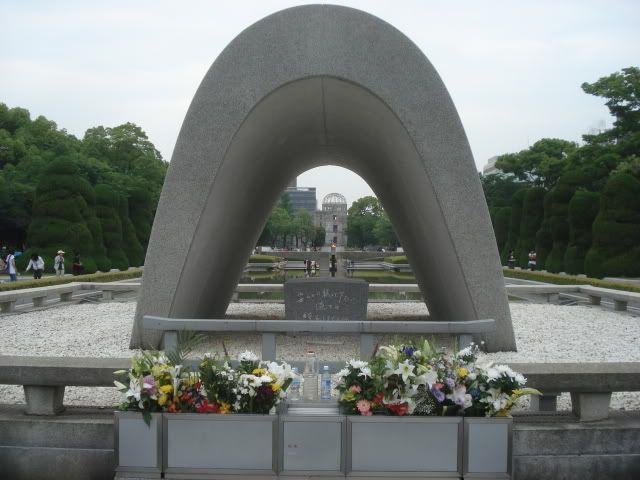 The Peace Memorial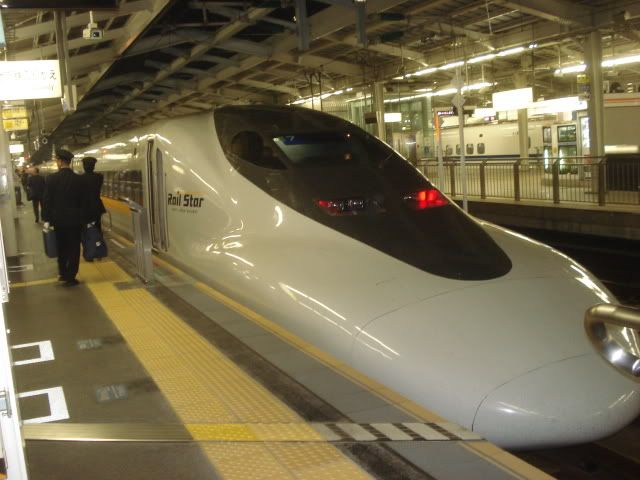 The Shinkasen
Mazda Stadium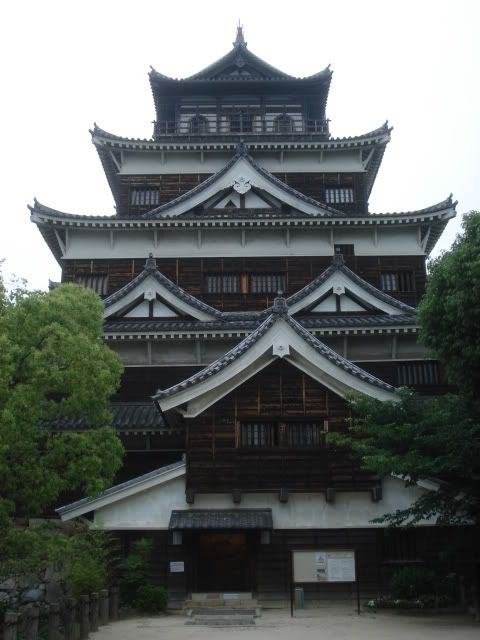 Hiroshima Castle
Wednesday. The next day I decided to go to Nagoya. The new plan was to see the Nagoya Dome and Nagoya Castle. There wasn't much to see there, given the short period I had planned to be there.
I first went to Nagoya Tower. I saw that and seen the Oasis later. I walked north and got to Nagoya Castle. I later went to the Nagoya Dome. It was closed too. I then decided to take the Shinkasen to Kyoto then go to Nara. Nara, was better than I had planned. However many things are spaced apart. I went to the famous Todai-ji Temple and the Kasuga Taisha Shrine. I saw some of the other parks and shrines along the way. However I got stuck in the rain. The one thing I don't care for in Japan is that many of the shops close by 5 PM along, with other sites.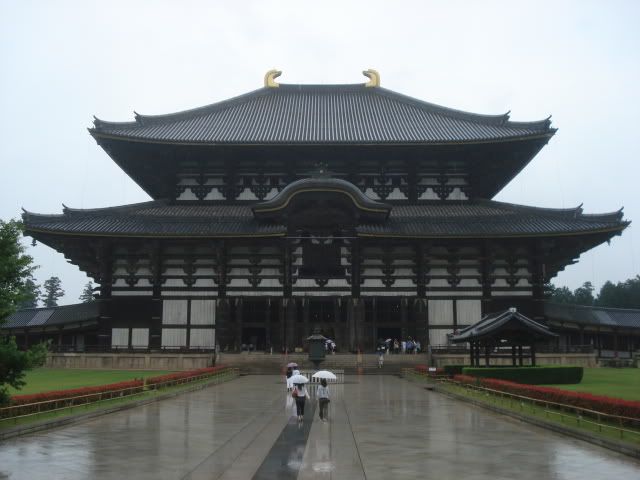 Todai-Ji
Nagoya Tower
Nagoya Dome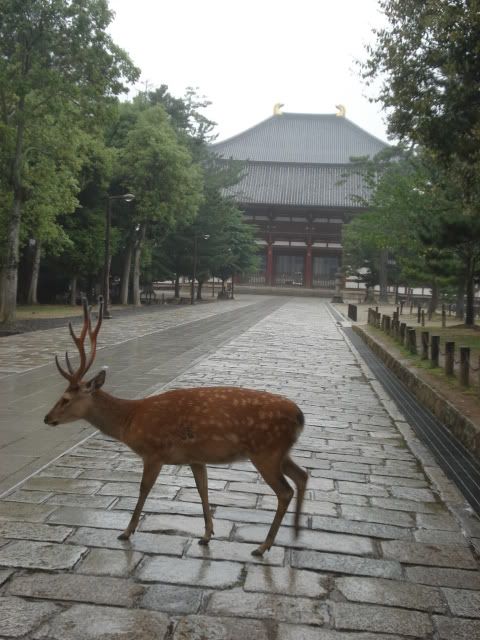 Nara
Thursday. This was the race day. I had planned to go to Shikoku to claim the I traveled to every region of Japan award. The plan was go to Takamatsu City in Shikoku. I had planned a short 1.5 hour stay there. I would then backtrack along the Shinkasen, to Okayama, Himeji, then to Kobe. It was alot since I would only have Friday in Osaka, then return to Seoul. I took the Shinkasen to Okayama, then transferred to the Marine Liner to Shikoku crossing the Seto Sea by bridge. Takamatsu City, was alot more interesting then what I had planned. The paperwork I had didn't show much. But I was able to see some of the island with my short time. I then went to Okayama. I took the street car there and then went to the Okayama Castle, well known for being black. I then went to the famous Korakuen Park. After seeing the park and castle I rushed back to the station and then to Himeji. I was able to see the longstanding Himeji Castle. I had finished the tour of Himeji by 5. I then went to Kobe, hoping I can get there before sunset. I was able to get to Kobe in time to get pictures of the earthquake memorial and Kobe Tower.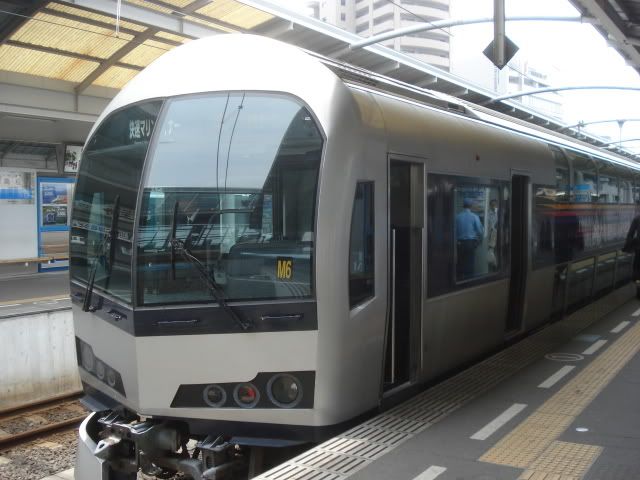 The Marine Liner to Shikoku
Welcome to Takamatsu City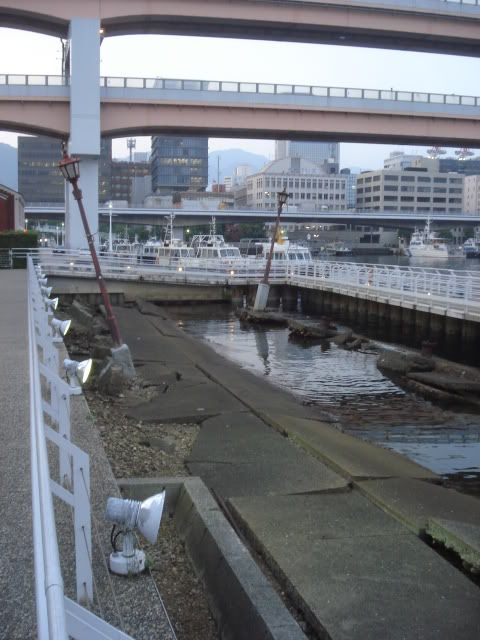 Kobe's Earthquake Memorial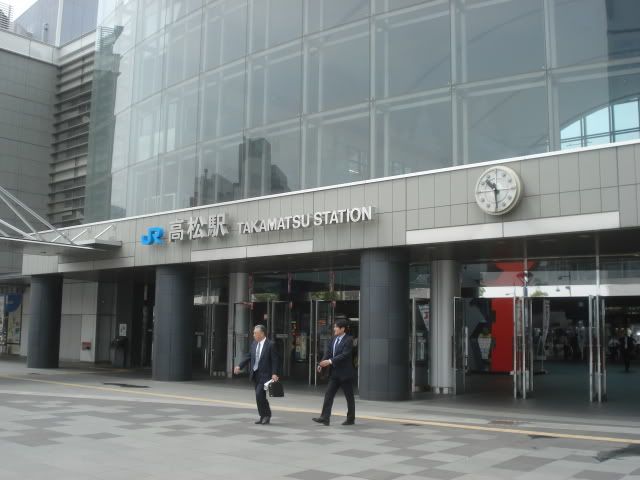 Takamatsu Station
Okayama Castle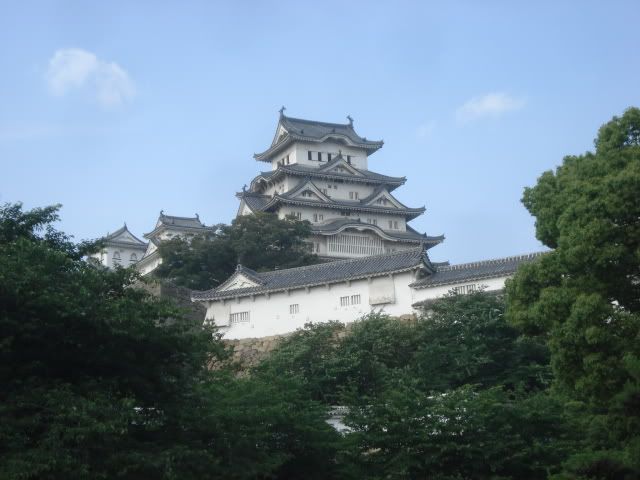 Himeji Castle
Kobe Maritime Museum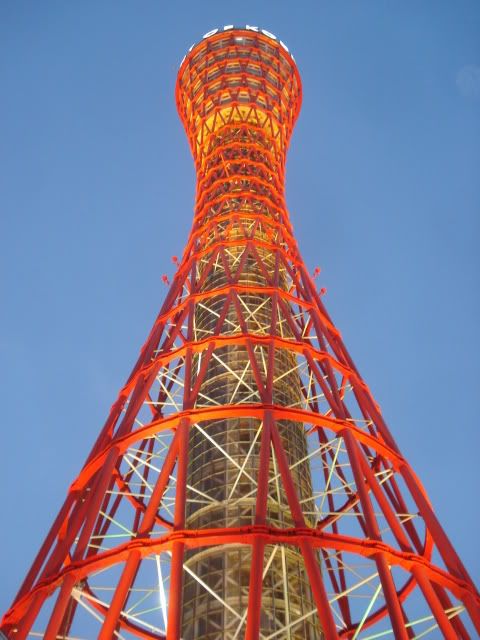 Kobe Tower
Friday. This was the last day of my trip. I slept in a bit and followed the regular schedule. I checked out early and left my bags at the front desk. I then did my sight seeing check of Osaka city. I went to the aquarium but it was closed. I then went to see the Osaka Dome and then the Tsutenkaku tower. I left to the airport from Nippombashi by 1 PM. I then went to the JR Namba, then to Tennoji to take the Haruka back to KIX. I was upset that I wasn't able to get as many gifts and things as I wanted. However, I am happy that I didn't spend alot of money. The flight departed around 3 and I arrived at Incheon around 5 PM. I then worked Saturday, yay!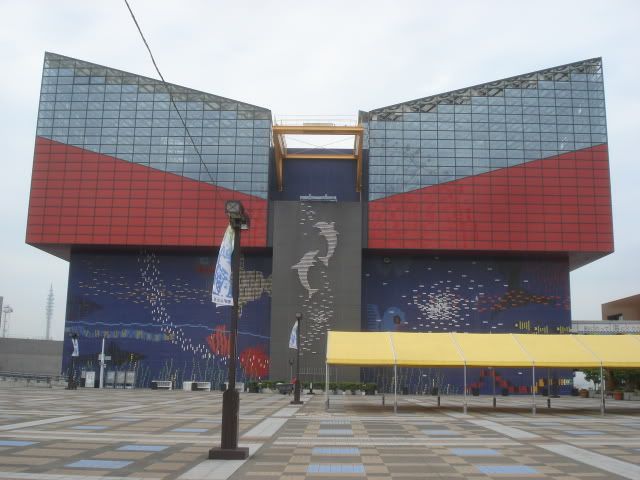 Osaka Aquarium
I know this is a bit late, but I didn't travel with my computer, nor did I type anything the past few days. In summary, I was a bit lazy. I started my trip on Sunday afternoon from Gimpo Airport to Kansai International. It was the first time for me to go to Gimpo, which is closer to my home than Incheon. The flight was about 1.5 hrs. I arrived at KIX with little hassle. It took me a second to figure out where the JR Office was in relation to the Airport Terminal. I was able to get my pass and I took the Haruka to Tennoji Station, then transferred to JR Namba Station. I went and got an ICOCA card. I then had to take the Private Line to Nipponbashi. It was a bit confusing to figure out which diretion my hotel was. In the past the hotel was always easy to spot, but this time it was off to the side and out of the way. I easily checked in and at first had a problem unlocking the electronic door. I had some assistance and the door was opened for me. By this time it had reached about 5 PM. I had planned to see as much of Osaka Sunday as I could before sundown. It was still relatively new to me, too. I went about and looked for Osaka Castle, one of the places on my must see list.
Mood:

satisfied
Eun Ji
Last Saturday was Eun Ji's birthday. So I've now attended 3 Korean Weddings and a baby's 1st birthday. It was the usual quick ceremony. The buffet at the end was pretty good. I enjoyed it. I saw Terminator Salvation. It was okay. Some good action scenes and that was about it. It rained alot the past few days, too. Sunday I had Haemul Tteok Chim. Pretty good and very spicy. 2 weeks until the Osaka trip. Hopefully the swine flu regulations will go down by then and there will not be any rain for that week. I still need to mail off my things home. I have to get my Visa and other things taken care of in June.
Mood:

determined
That was the update part. The recap begins now. Not much has transpired lately. I've been working as usual and working on the weekends to get the money for my return. I visited Changdeokgung finally. I was able to go there during the Hi! SeoulFest and get some nice pictures. See below-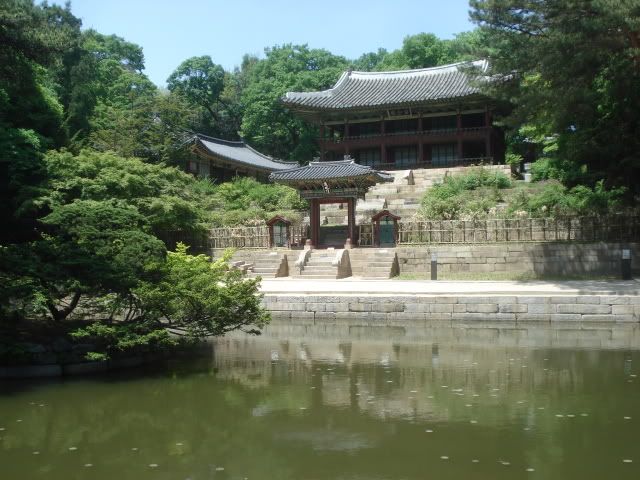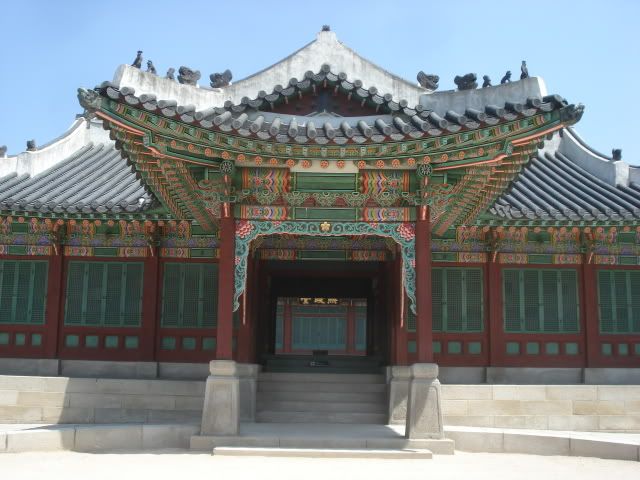 I also got some nice pics from Deoksugung-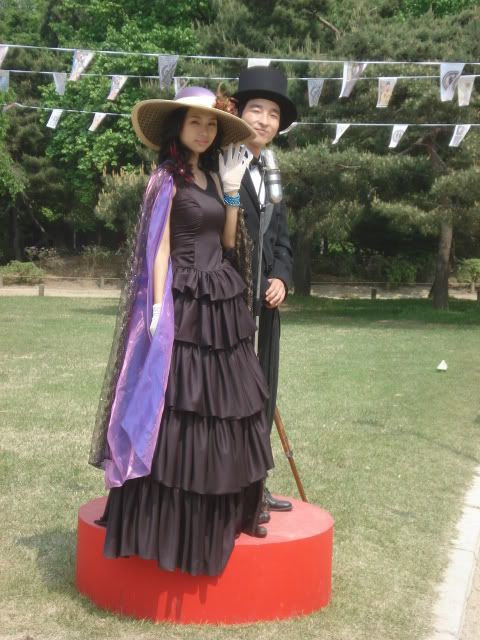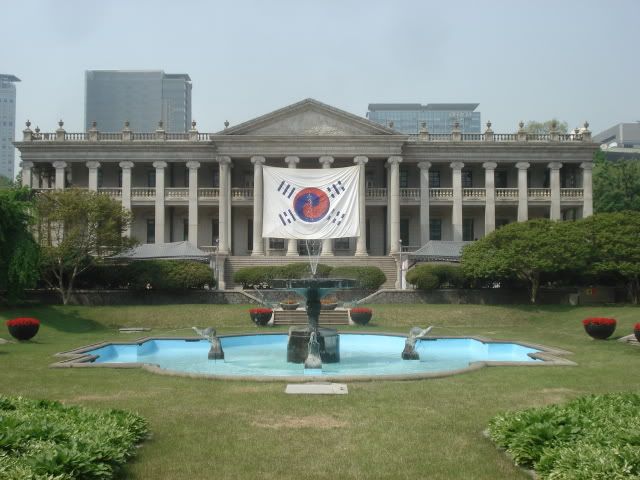 I was able to see SNSD on May 15. After a long day of work, I went to Kyung Hee University to see them perform. It was a 3 hour wait in the rain. I met Eva (from Samsung) there. It was nice to get a good view, too. The weather though sucked!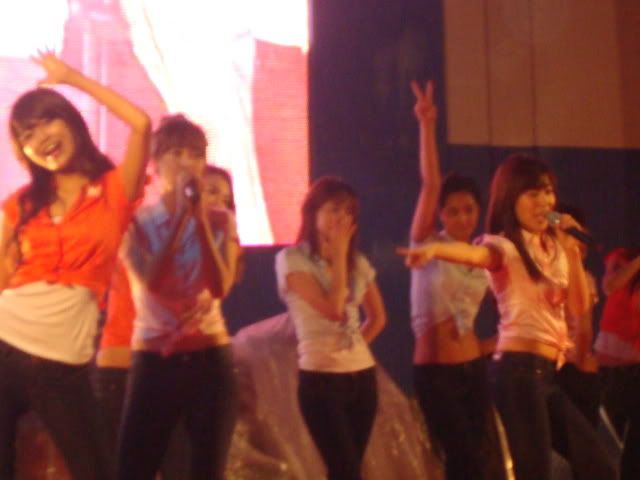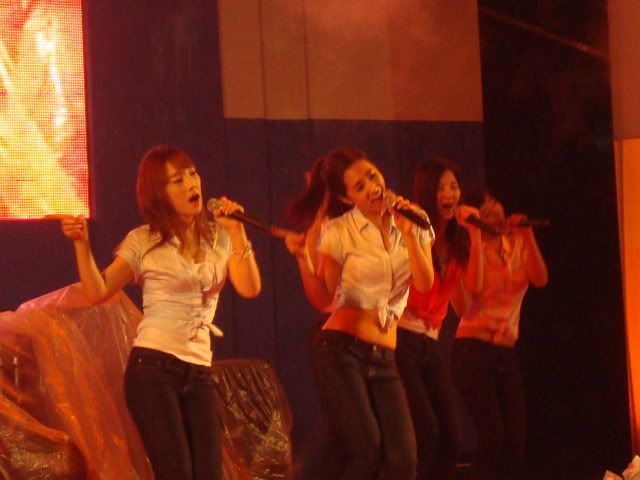 I did see Star Trek, too. It was way better than Wolverine!
The future challenges-Home related (Job, housing); Korea (more sight-seeing; sending things home; selling furniture).
Well, I will be staying in Korea until August. I Got the landlord to give me a 10 day extension. I got my ticket to Osaka in June. Hopefully the swine flu scare will be away by then. I have a wedding to attend this weekend. I still need to find a job for August, too.
Mood:

blah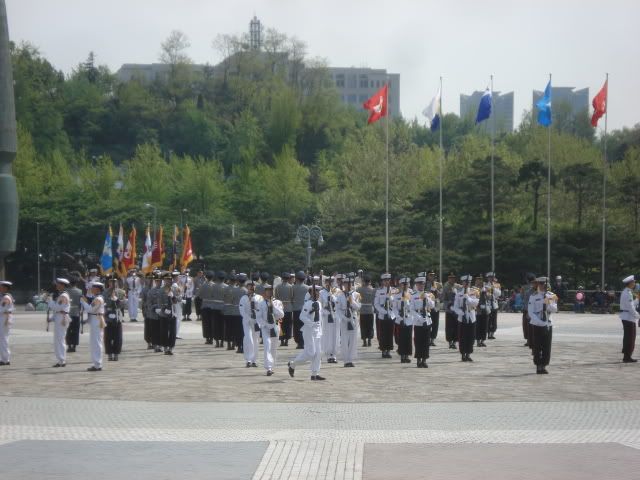 Honor Guard Military Drill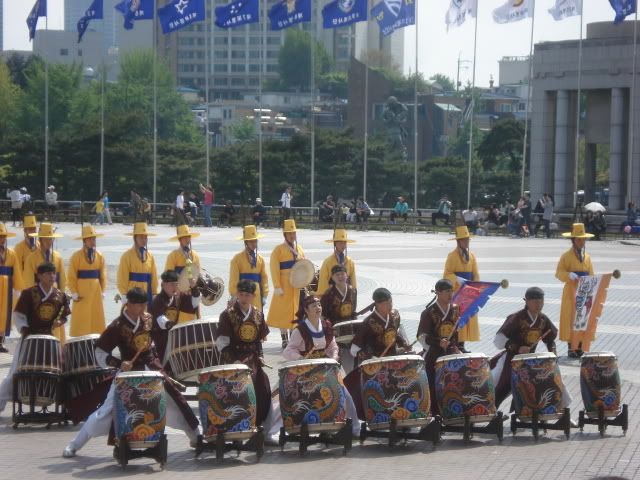 Drum Practice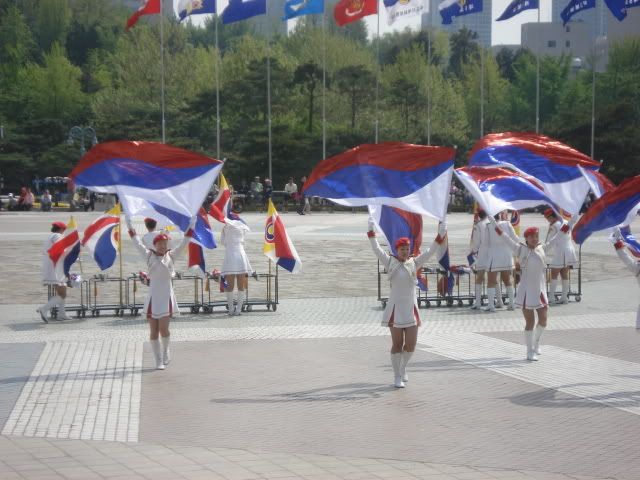 Color Guard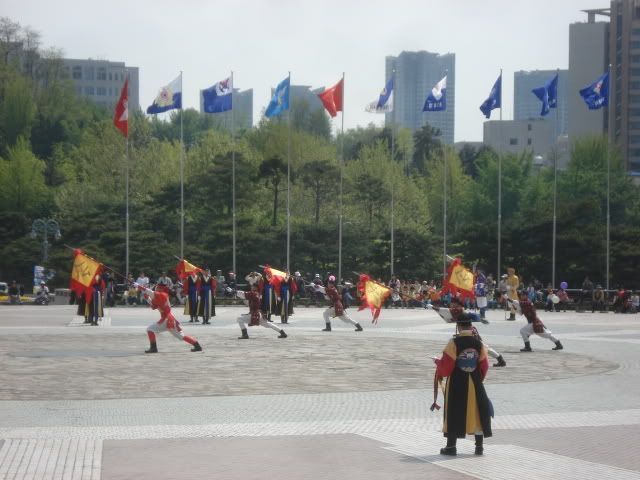 Combat Practice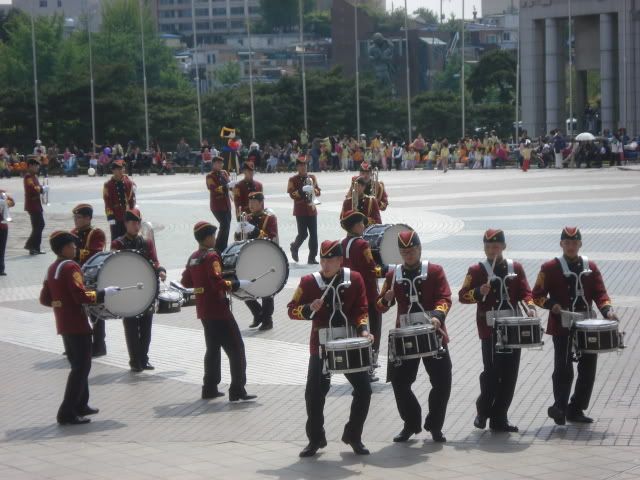 Military band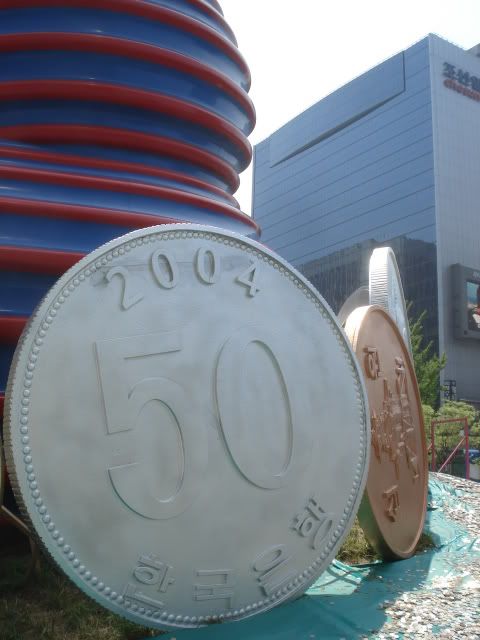 Cheongyecheon Coin Collection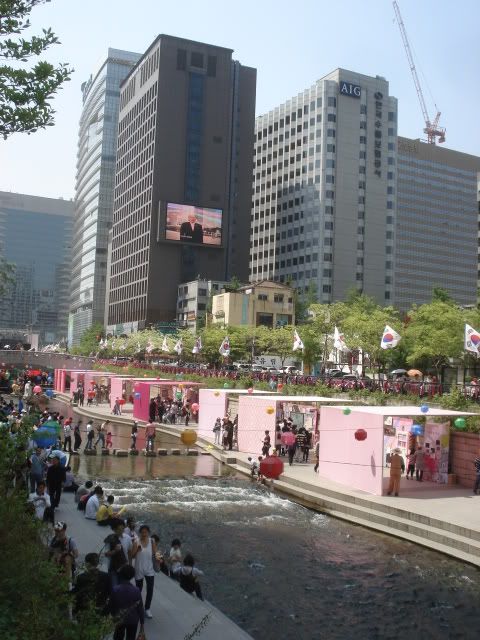 The Cheongyecheon decorated for Hi Seoul Fest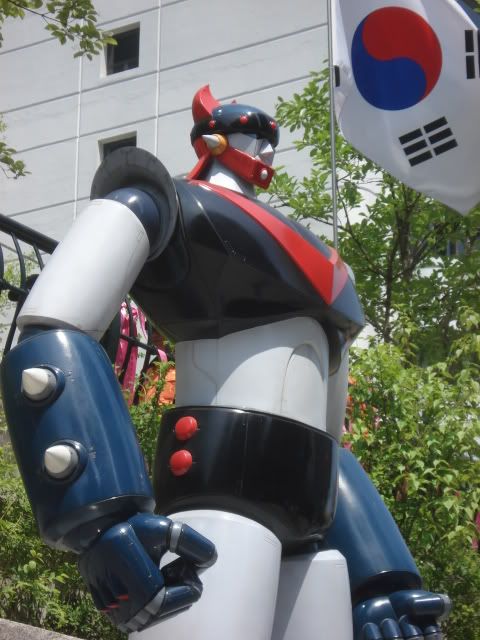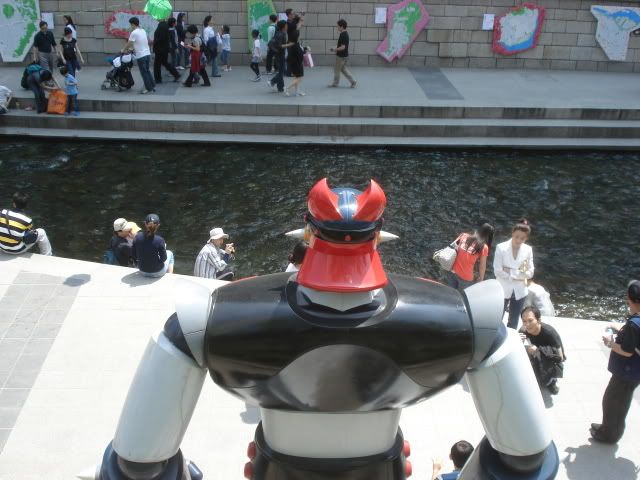 Taekwon V
The Traditional Band at Deoksugung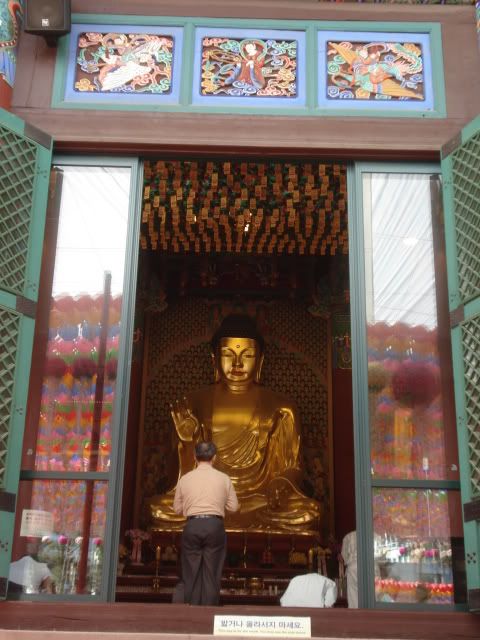 Jogyesa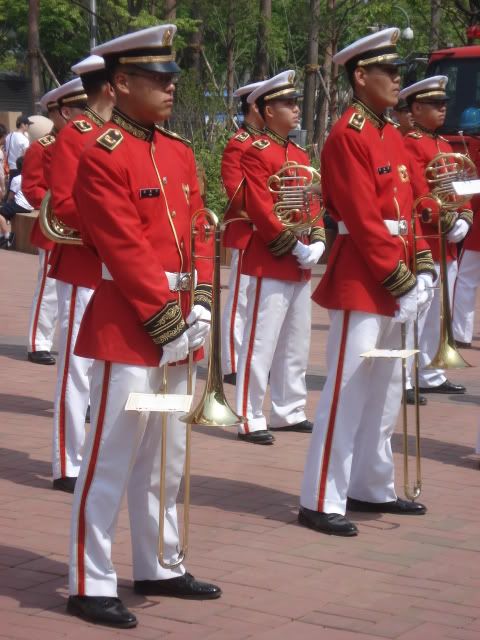 Fire Dept. Band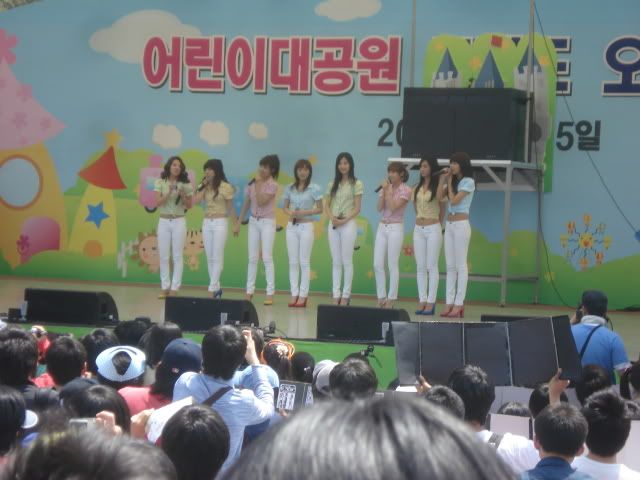 SNSD!
I also got approved for my vacation in the second week of June. It looks like I'll head to Osaka and Hiroshima.
The past few days have been rather exciting in the city. The "pseudo" Golden Week per se has come and went. Friday was the rather "Socialist" May Day. Just lots of people taking a day off. Saturday was Buddha's Birthday and today was Children's Day. I went to The War Memorial Museum Friday for the Drill Show. Saturday rained. Sunday I went about the city and took some pictures of the Hi Seoul Fest! I walked from Seodaemun to Anguk and back. Monday was a work day. Pretty odd, since most people took the day off. I had the rather odd luck, of having all my student show up. Tuesday I waited amongst lots of sweating people (yuck) and pushing and shoving to see SNSD perform. A long 2 hour wait and then they performed 2 songs.
Mood:

tired
This weekend was the same as last. I made alittle more money than usual since I got my contract renewal bonus included in my paycheck. I'm still on the downside of units since last month, but I've gotten used to this new schedule. I worked Saturday and went out for a walk and picture taking Sunday. It had rained this weekend and a cold front accompanied it. The Lantern Festival has begun and this weekend is the big holiday. I need to prepare for a vacation soon, since my time is almost up!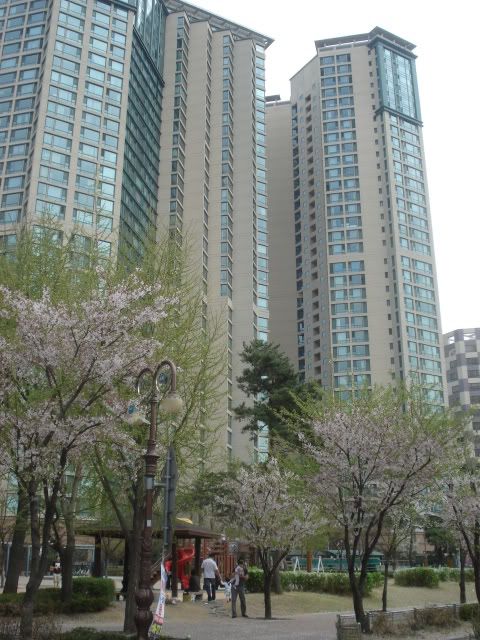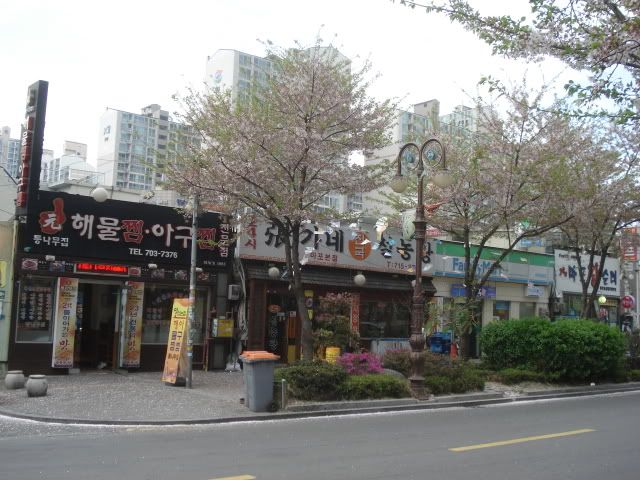 Home Sweet Home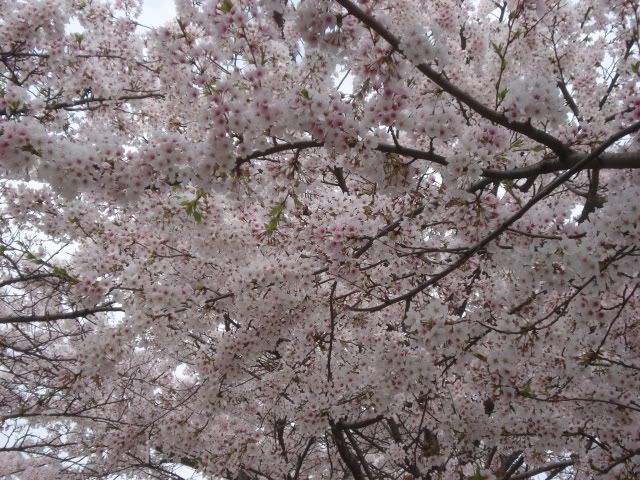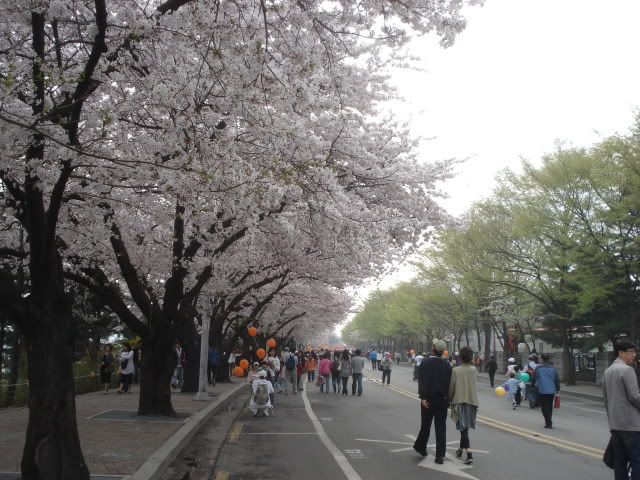 Yeouido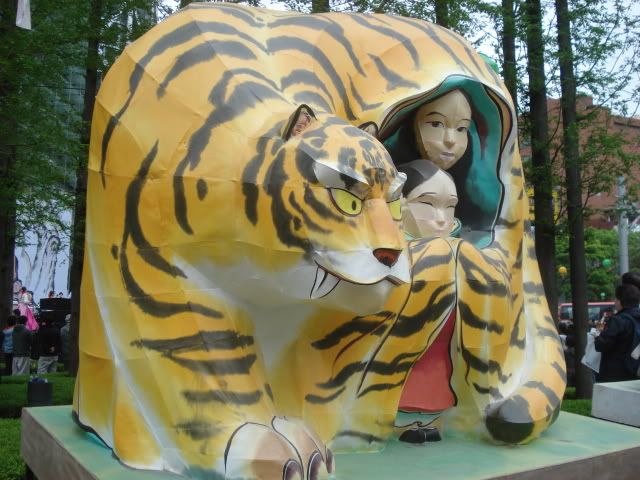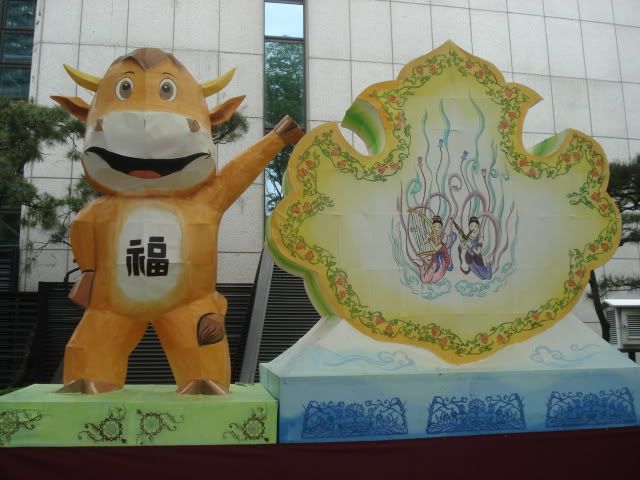 The Lotus Lantern Festival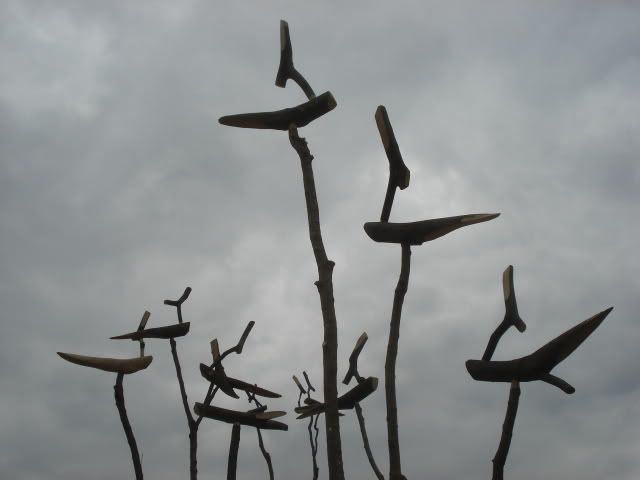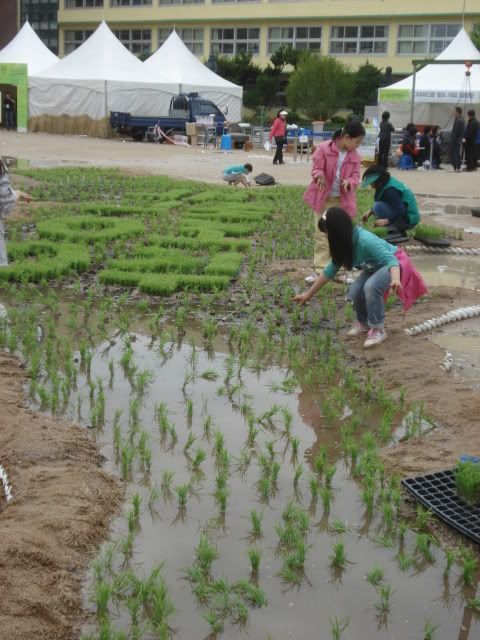 The Rice Planting Festival in Jegi-dong
Not much has went down lately. The week of the 19th was the last day of the Yeouido Cherry Blossom Festival. There wasn't a concert, since the Hangang Renovation project has most of the area under construction. I went and took some pics that Sunday to add to the collection. Not much transpired besides that, and work on Saturday.
Mood:

cold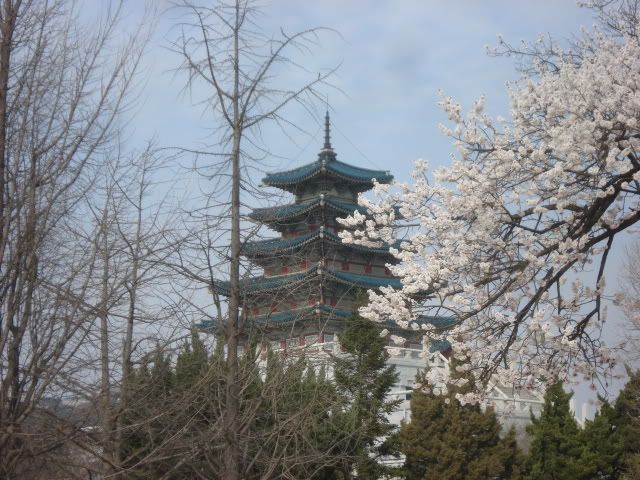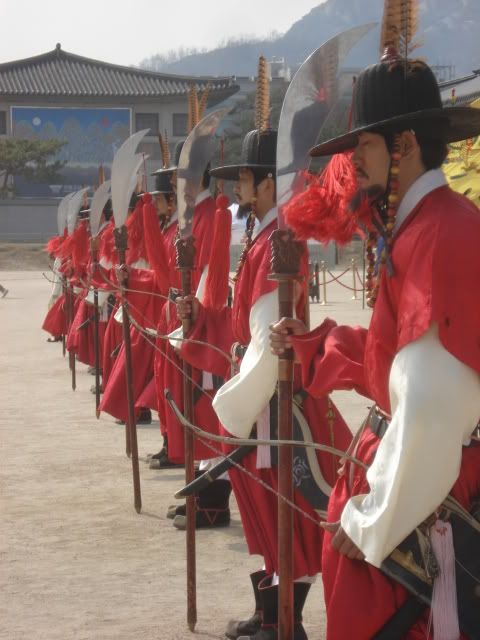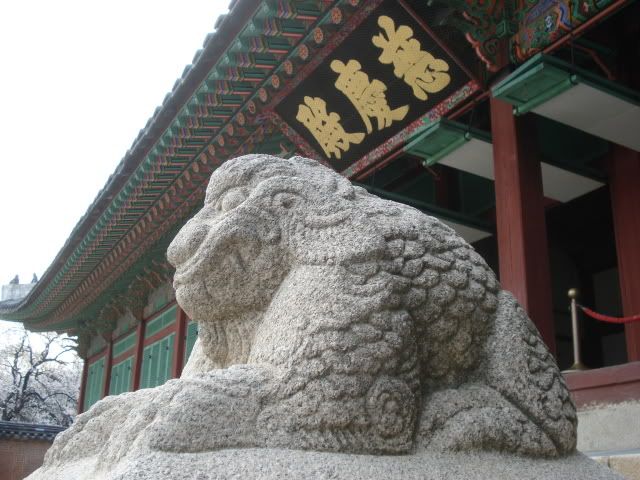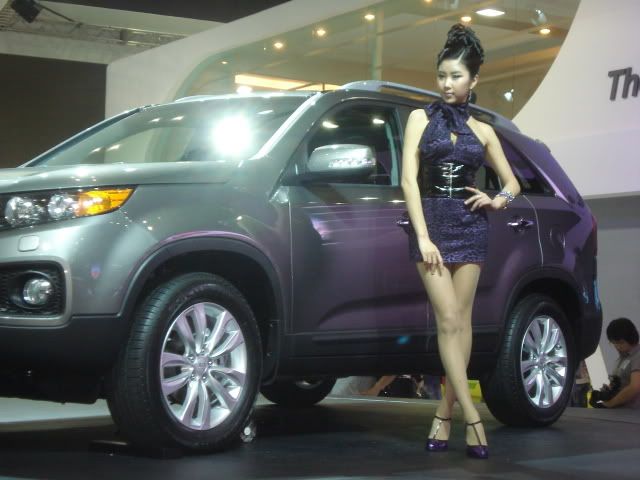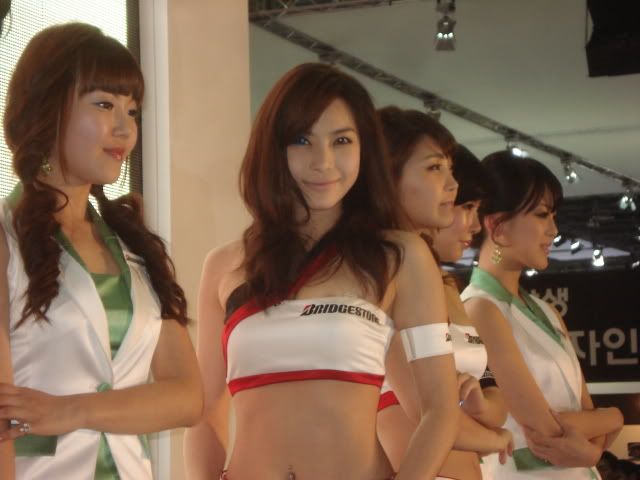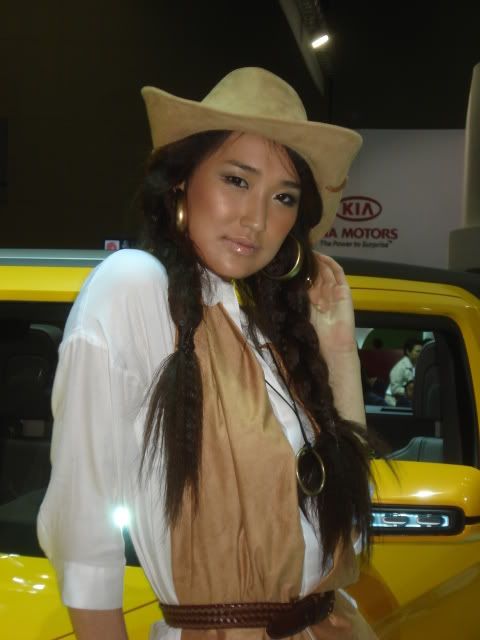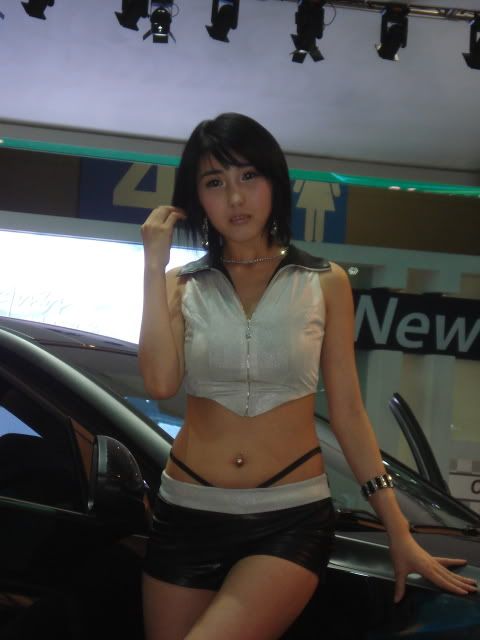 It's April already! I got the new work schedule. I've been taken off the GM Factory list. Now, I'm working at the office in the evenings and teaching the GM employees on the weekends. I was able to go to Gyeongbokgung for some spring photos on Friday. I need to save some money for a nice vacation
Mood:

complacent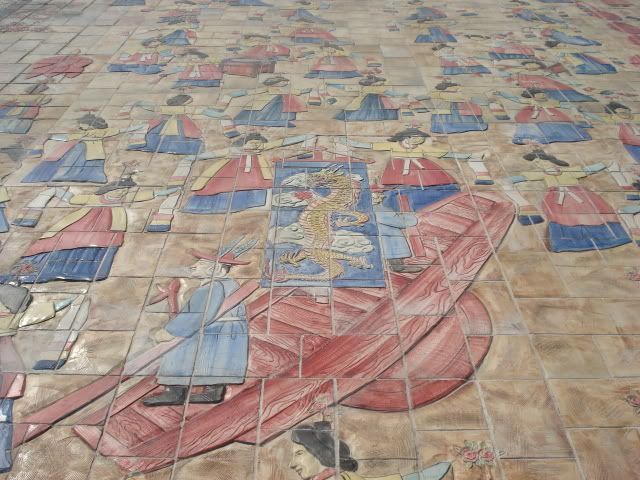 The plaza grounds
Bell Tower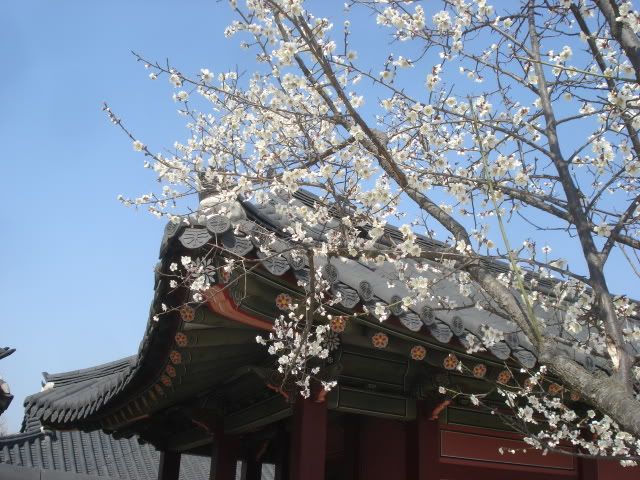 Cherry Blossoms
The Portrait of the King in his military uniform
I went to the Tteokbokki Festival on Sunday. It was very crowded. More people than I expected.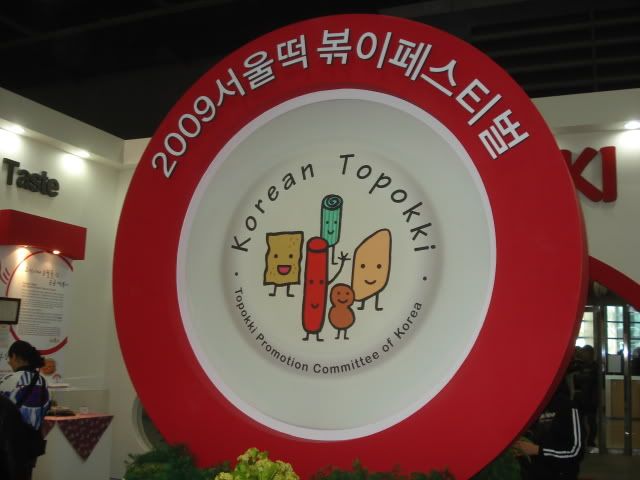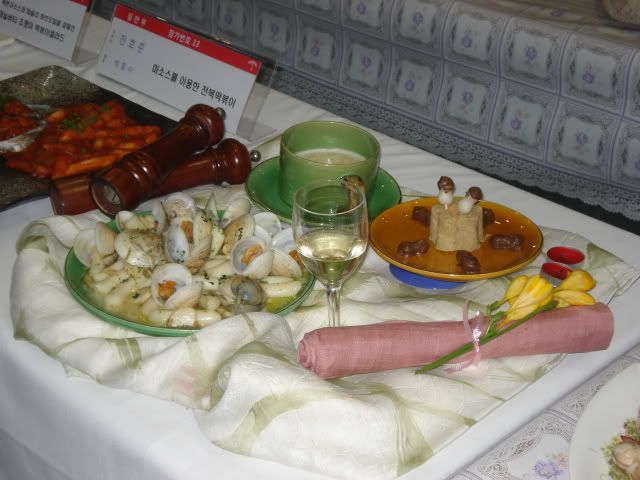 A mixed dish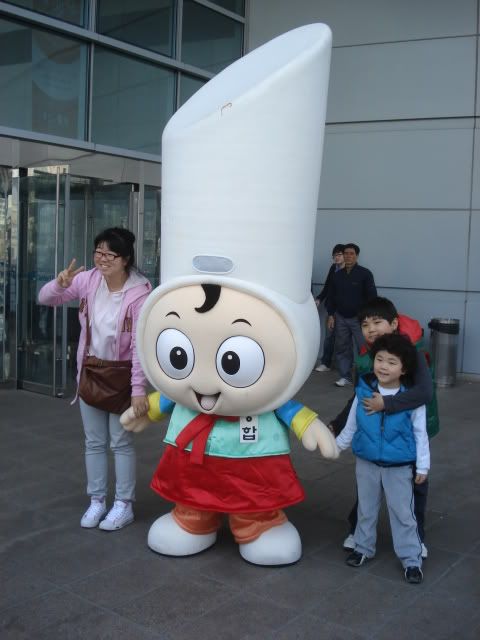 A friendly tteokbokki
After that, I walked to the Yangjae Flower market. It was very big and nice. Lots of good deals there. I bought me a Rosemary Bush and a flower for 5,000 Won.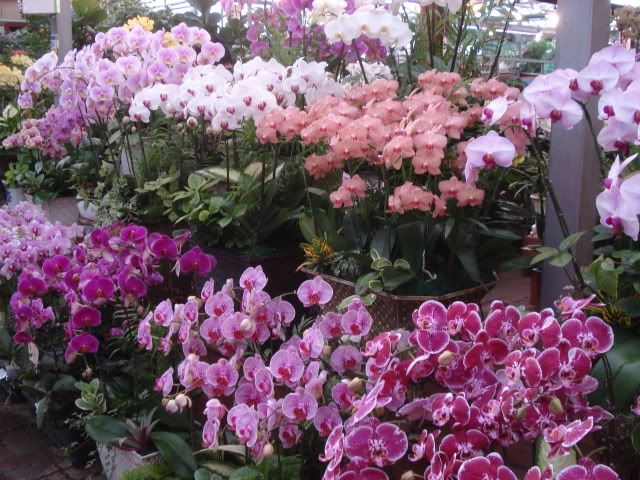 The Flower Market's variety of plants.
On the plus side, I finished up my taxes. I'll earn nothing pay nothing. I also need to see if I get put back on the GM schedule. I hope so.
I had a free weekend, so I had to think of something to do. I went back to Suwon to the Hwaseong Haegung again. I was hoping to nail some good photos and I needed to stretch my legs. Alot had changed. They were preparing for an event on Sunday (which I missed). They had also completed the plaza in front of it. It was very nice, lots of illustrated tiles in a traditional painted format.
Mood:

artistic